Situation Leading to a Story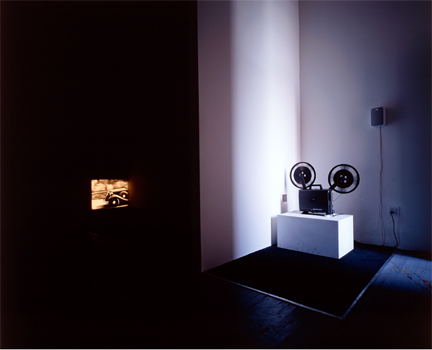 1999
Continuous black and white 16mm film projection with sound.
21 minutes, dimensions variable.
Request password | View film
The installation is configured in two small adjoining rooms. A 16mm film is projected from one room into the other through a small opening in the wall between them. The two spaces are constructed so that the viewer approaches the projector first, then the projection, which appears at floor level in the corner of the second room. The film is a copy of a set of four short amateur movies made in the 1920s. Audio speakers in the room broadcast the artist's account of finding and investigating the films, which includes the history of home movie production and the filmmakers' family's possible connection to an imperialist copper mine in Peru. If private life can be defined as the time or space in which people are not "images" or "objects," Situation Leading to a Story examines amateur filmmaking's awkward, often unsuccessful attempts to create an image of privacy.